Portable Ice Skating Rink Rental
Synthetic Ice Skating Rink Rentals - Holiday party ideas for work - Ice Skating Rink Rental - Phoenix, Arizona
If you're in charge of the corporate holiday party and looking for theme ideas then why not rent a portable synthetic ice skating rink. Call, click or come by today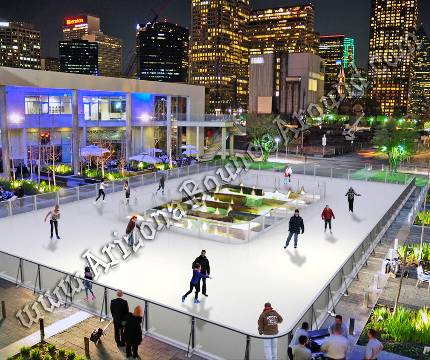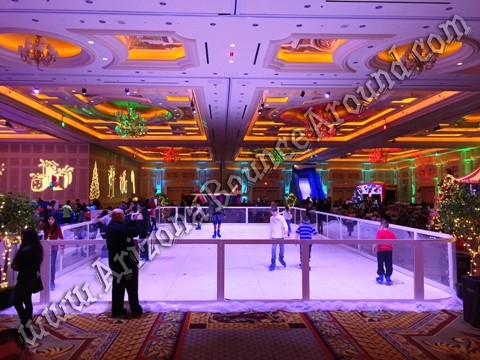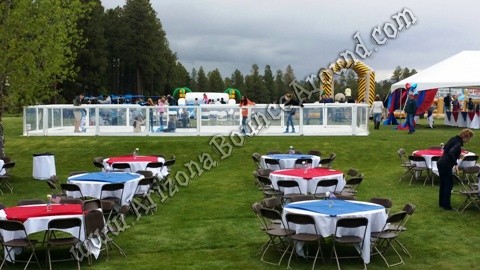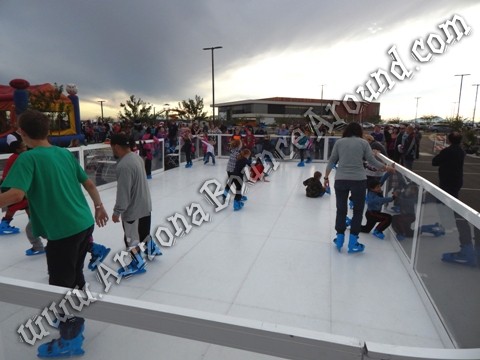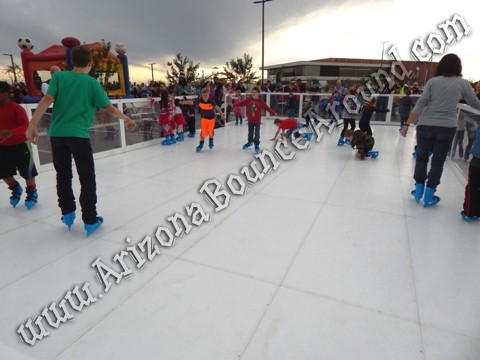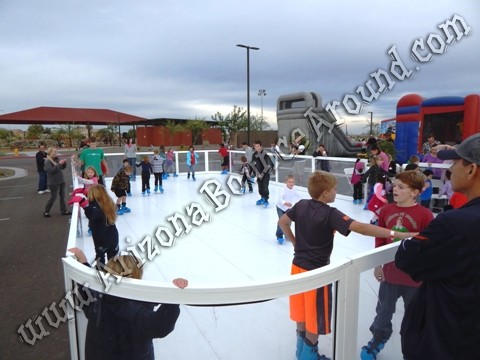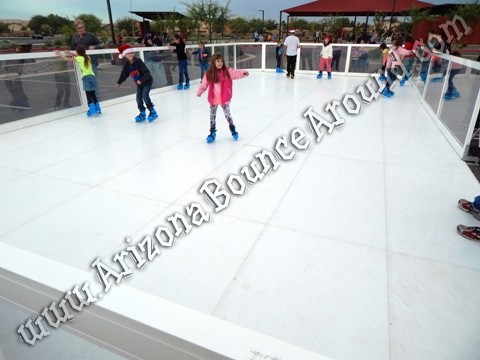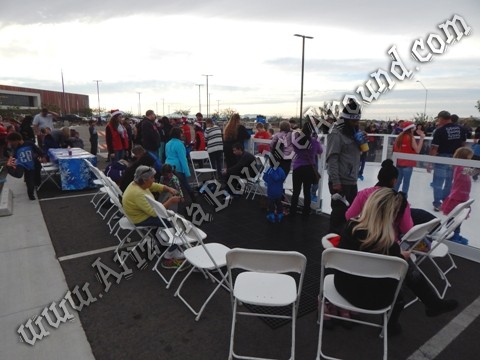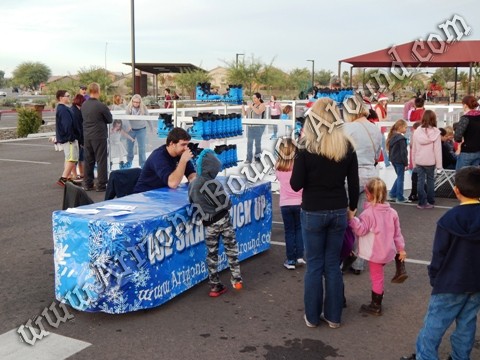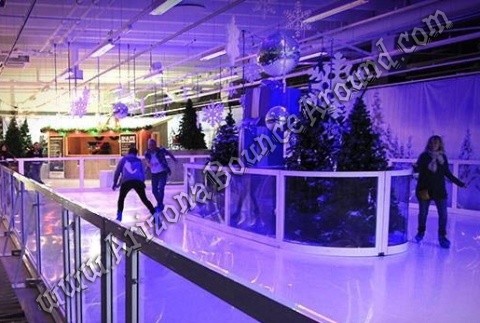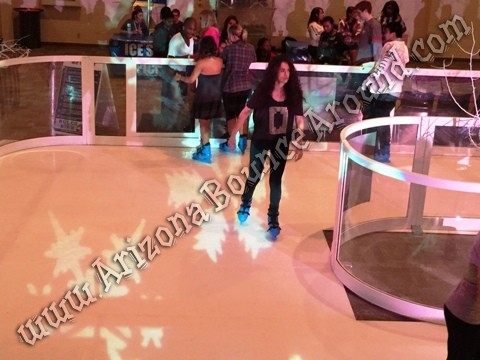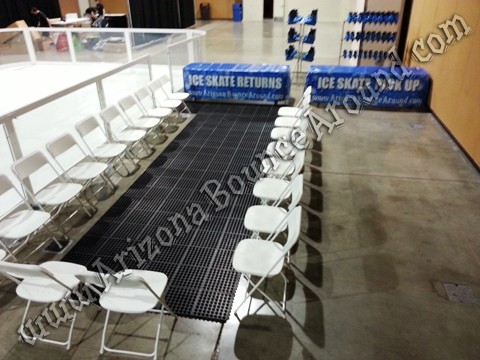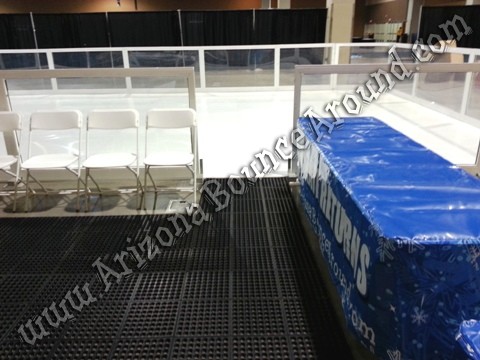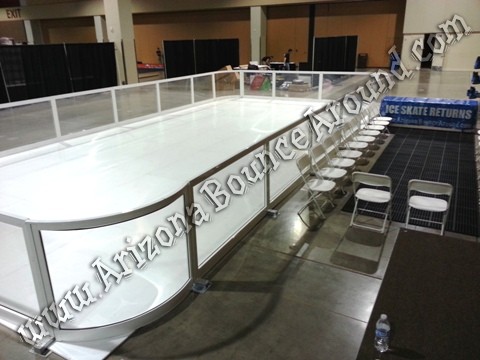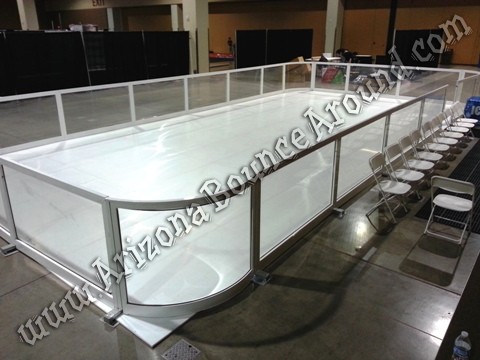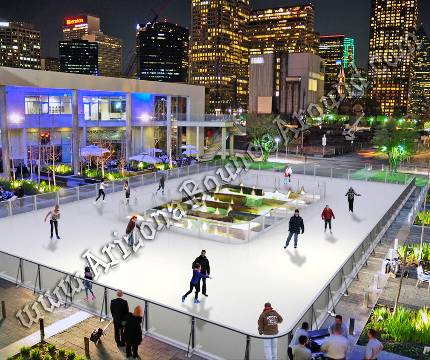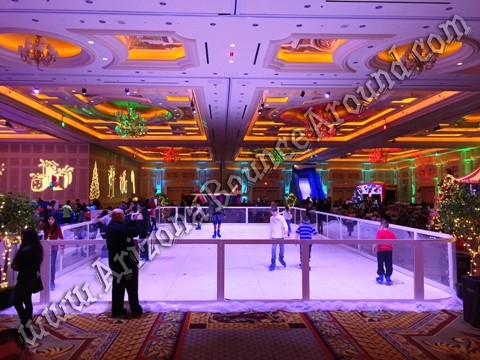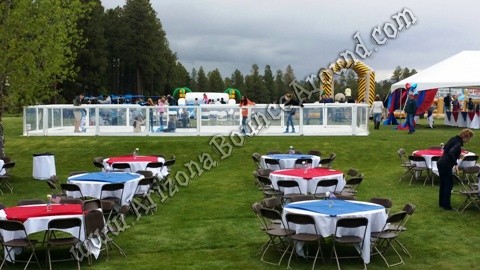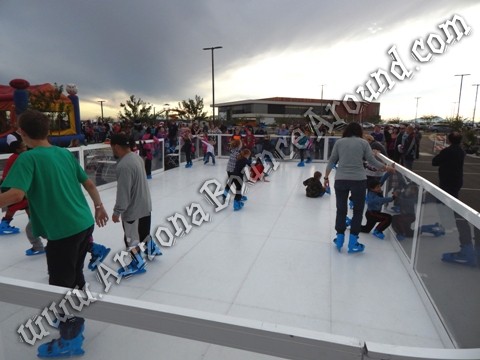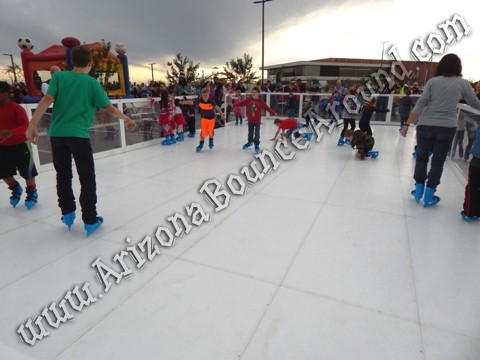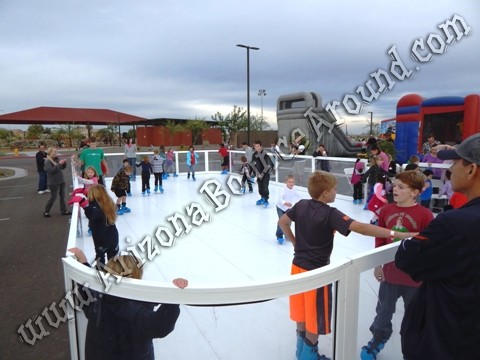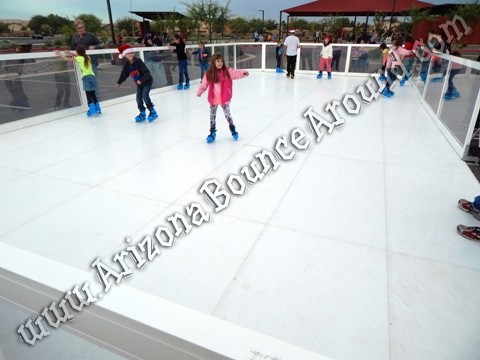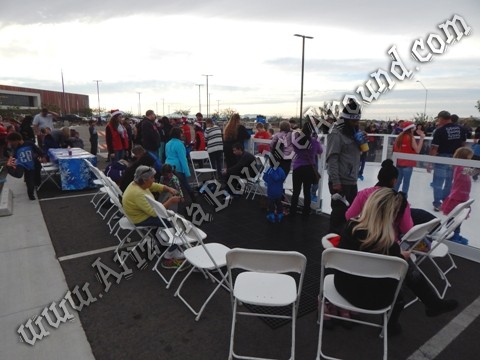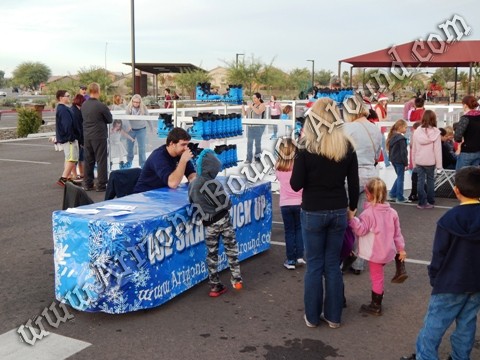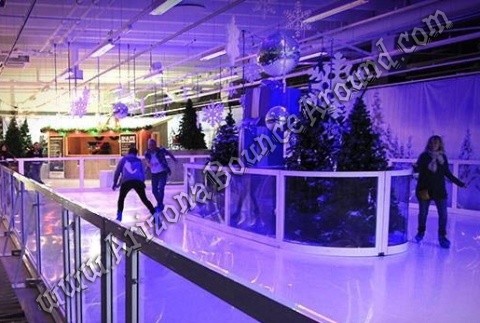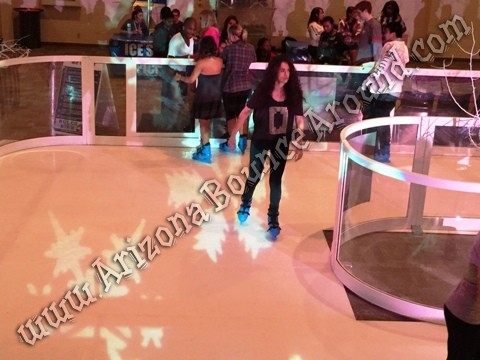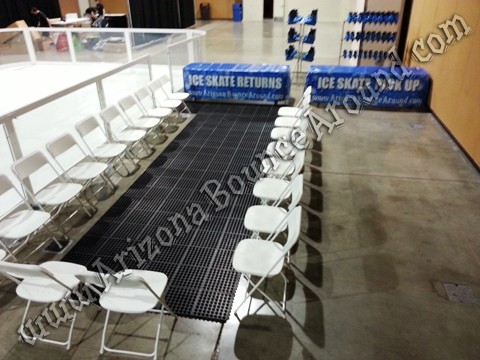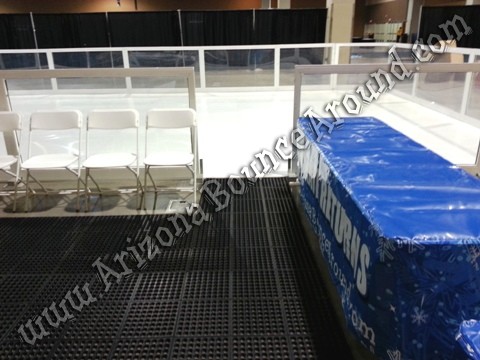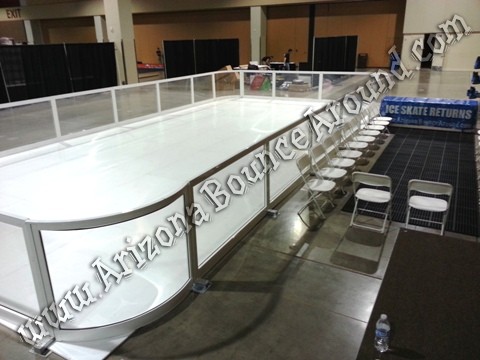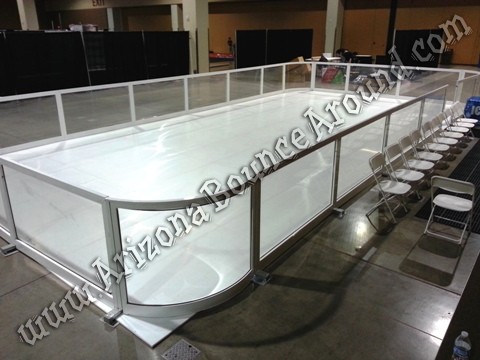 Rent a Portable ice skating rink today 480-874-3470
Portable Ice Skating Rink Rental
Starting At:


Rent the Best Synthetic Ice Rinks in Arizona
We supply real ice skates with every ice rink rental - Professional fence included
*restrictions apply
Our new portable ice skating rinks are truly portable and is completely synthetic ice so no freezers or frequent maintenance required for this ice skating rink. Our ice skating rinks start at 1,196sf (26 feet wide by 46 feet long) of pure fun and can be setup indoors or out, on the beach or in your parking lot. We offer many different sizes and shapes of ice rink rentals so please call us with your needs for a quick quote 480-874-3470
Some of the photos shown are of different size portable ice skating rinks we offer and with and without open centers.
We can put the seating area on any side of the ice rink and the space needed for that is 10' wide by 20' long. This measurement is not included in the space requirements. We can make the seating area smaller or larger depending on the size of rink you need. Be sure to check out our new
snow slide tunnel
perfect for big parties or events.
Our Ice Skating rink rental price is for flat level setup on concrete, carpet, tile, etc. without an open center. The open center adds $250.00 to the rental price and makes the ice rink look great. It's the perfect place for props or snow machines.
Our ice skating rink comes complete with ice skates in various sizes, Ice skate rack, chairs and professional aluminum fencing. We provide staff to help with proper skate sizing and can even provide holiday music, artificial snow fall, snow globes and sleigh rides. You can even
zip line
over the synthetic ice rink or ride a
mechanical reindeer
for the ultimate holiday party or event.
No holiday Christmas party is complete without a train ride and we have the perfect
Trackless Train
to complete the party.
If you're in charge of the holiday corporate party or city festival this year then let us help you make the crowd go WOW, That party was amazing.
Our synthetic ice rink rentals provide a unique setting for your winter party theme. A synthetic ice rink makes the perfect centerpiece for your special winter event, creating a fantastic Christmas skating party or a fabulous New Year's Eve celebration.
Our synthetic ice rinks are made from hi tech plastic polymer which mimics skating on real ice. For every winter event package, we offer the ice rink supplies and skating equipment to make your event come together smoothly. You can add special event lighting,
snow machines
, holiday themed props and
snow globes
.
We also rent
heaters
so be sure to add them to your order.
Download
Our Holiday Party flyer with all of our
Holiday Ideas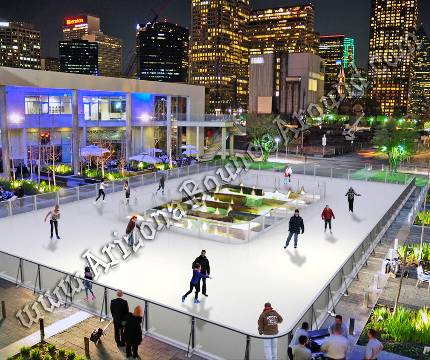 The photo above is a large 80' x 100' ice skating rink and the rental price for this size rink is around $72,000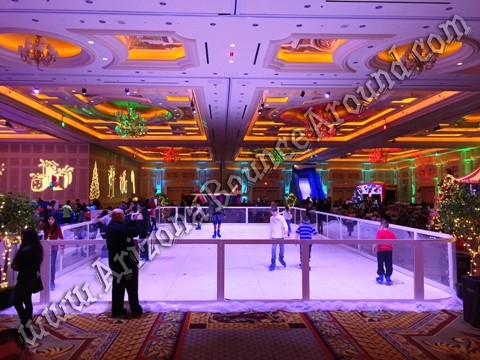 Transform your ballroom or event space into a winter wonderland by adding our synthetic ice skating rink. The above photo is a 32' x 65' ice rink set up on the 7th floor of a resort in Las Vegas Nevada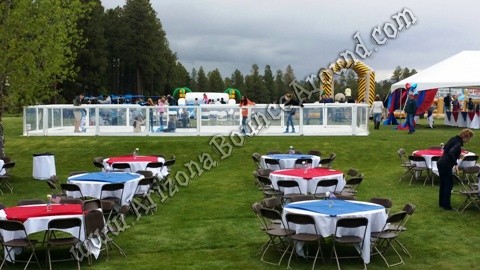 Here is our ice rink set up on a golf course in Arizona. You can have an ice skating ring just about anywhere when you call Arizona Bounce Around for your next ice skating rink rental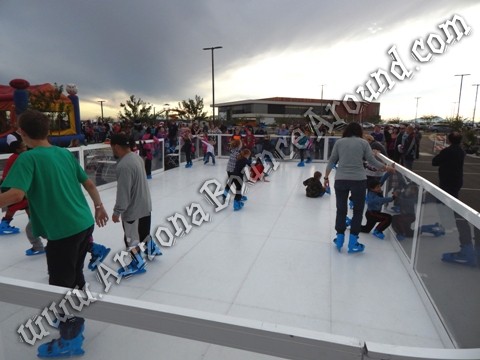 Our portable ice rink features clear fencing all the way around and perfect for city events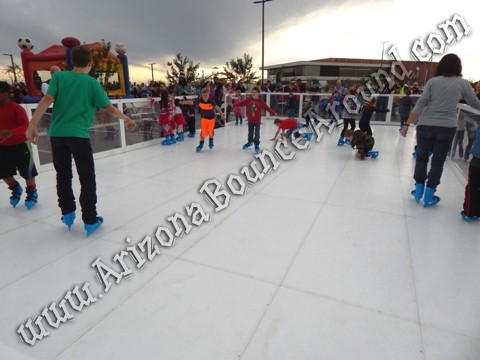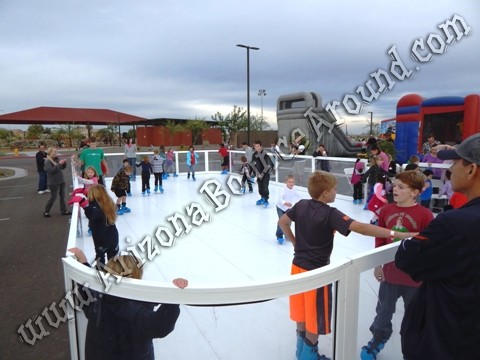 Plenty of room for for kids and adults to enjoy ice skating in the desert together. Our ice rink will hold up to 50 skaters at a time.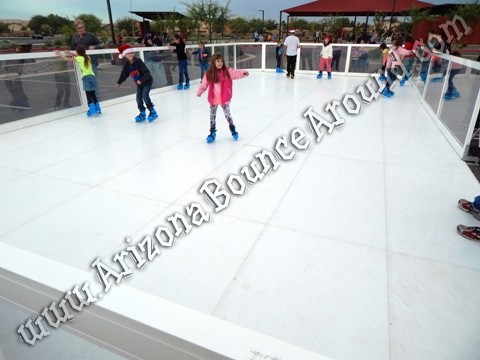 Our super fast synthetic ice rink is the only portable ice skating rink that does not require lubricant to be added to the surface for use. This may sound simple but you should ask these questions before renting ice skating rinks because your guests will not like having that on clothing when they fall down.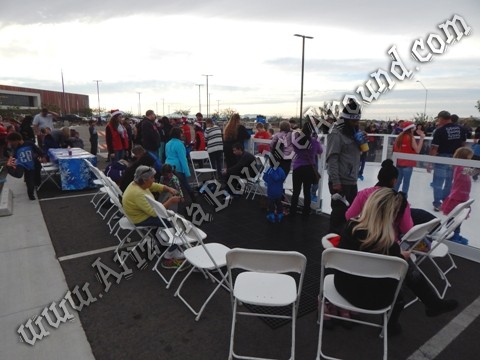 We provide a spacious seating area complete with rubber floor when putting on ice skates and taking them off.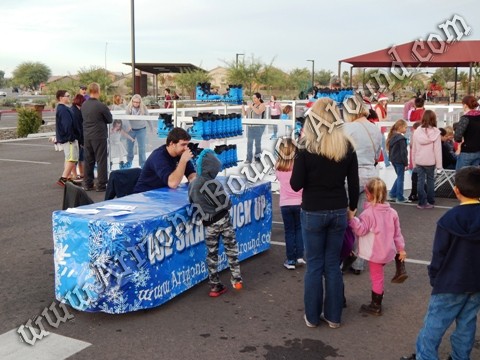 Our ice rink rental price includes a custom table for pickups and one for returns perfect for large attendance events wanting ice skating
Our ice rink rental price includes 50 pair of ice skates in various sizes including toddlers, kids and adults. It also includes 2 ice skate racks for quick sorting and selection. Our ice skates are very high quality with plenty of ankle support and quick adjustments for ease of use for high attendance events.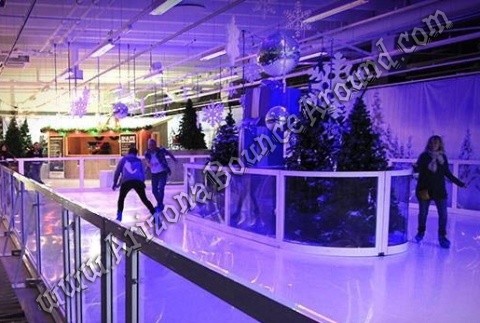 Add black lights to your ice skating rink for a really cool effect. We can also add an open center for Christmas or holiday props as shown in the photo above and below.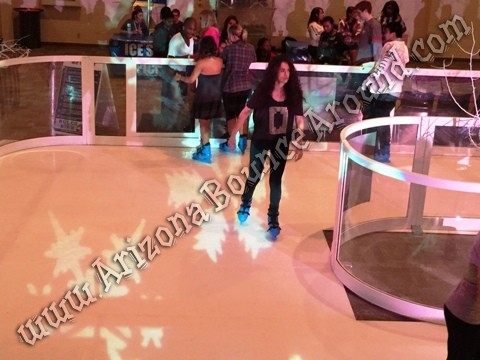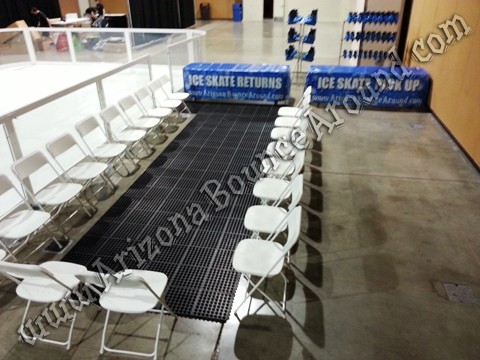 Rubber flooring is installed in the seating area so you can walk on and off the ice rink without damaging the ice skates
Our Ice Skates are professional grade, easy to adjust with lots of support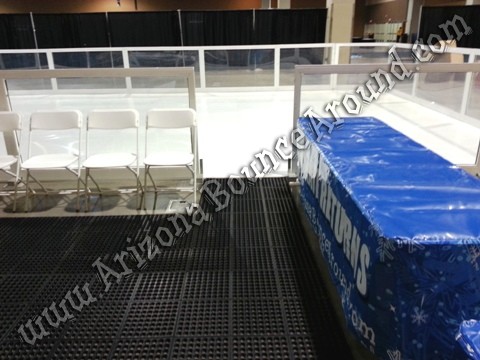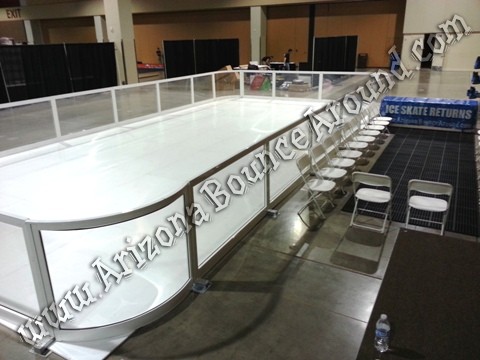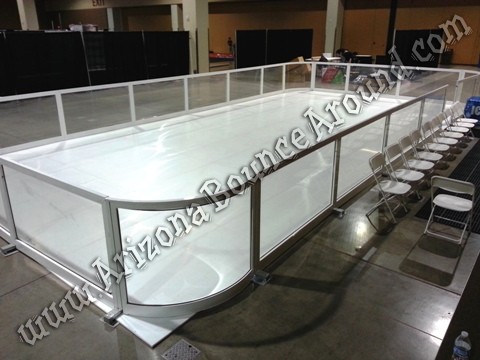 This is a 26' X 46' ice rink