51' Skyscraper Water Slide
Our Skyscraper dual lane water slide is the tallest inflatable water slide in the US standing 51 feet. It's the only one available in US and we have it in stock in Scottsdale, Arizona
Our 51' tall Skyscraper water slide features dual lanes and sends the rider flying in the air at the bottom so be sure to check out the video. If you need a big water slide for an event than this is it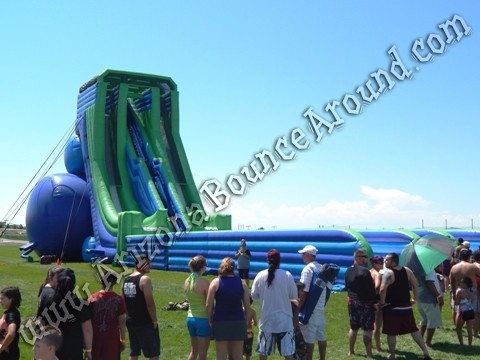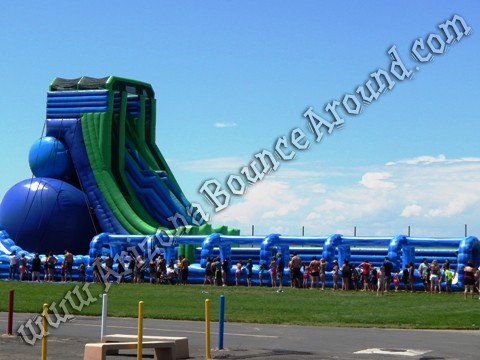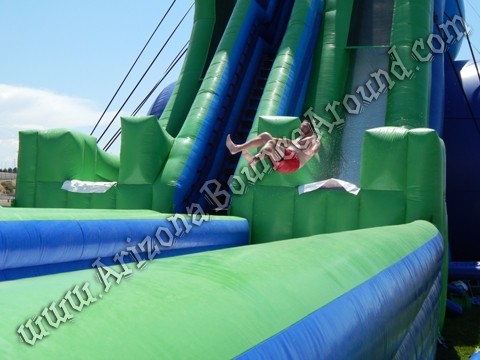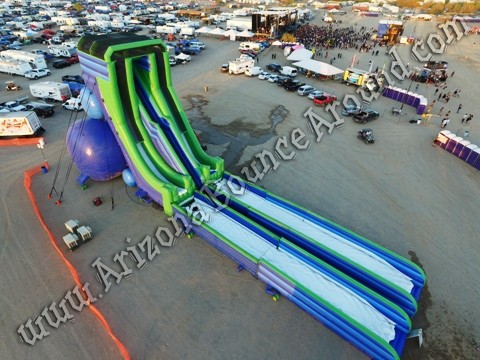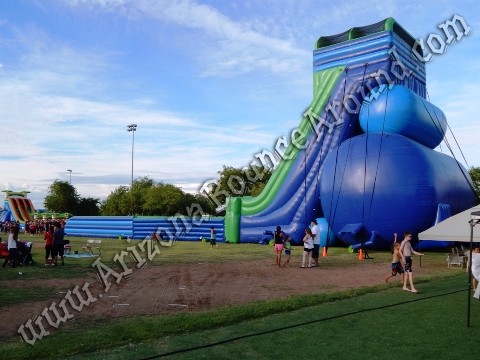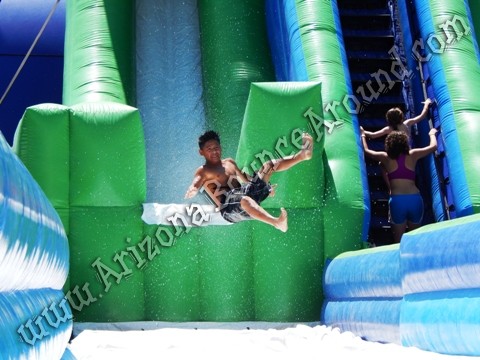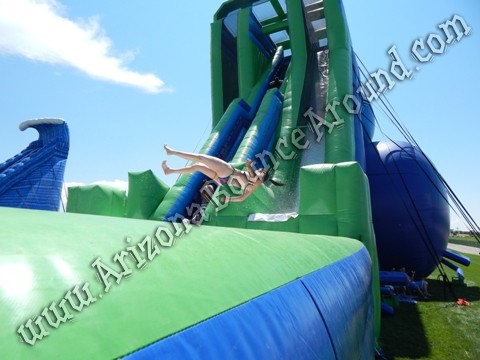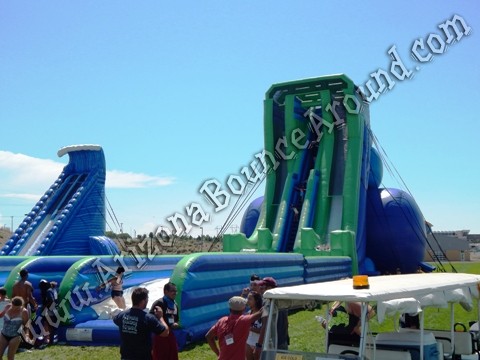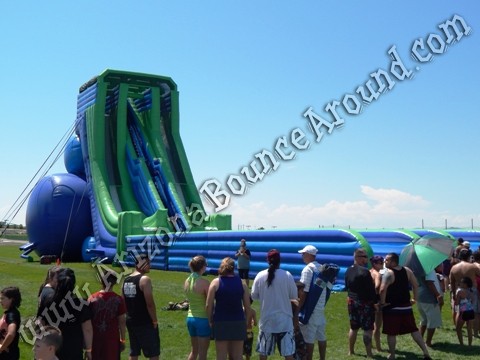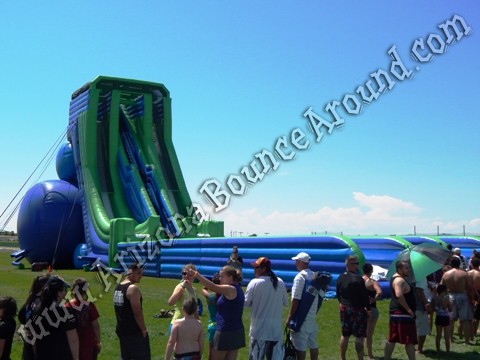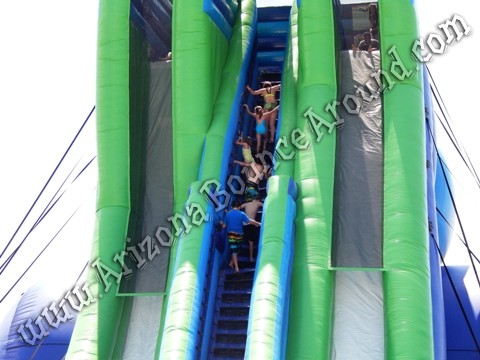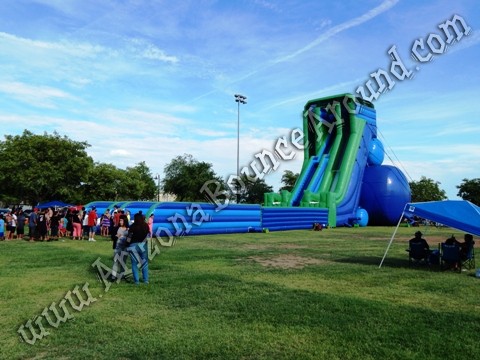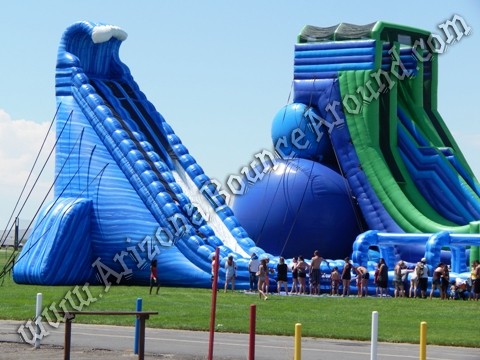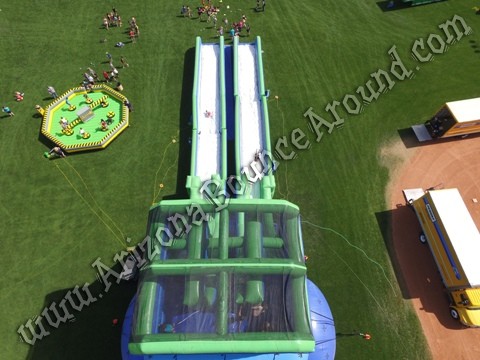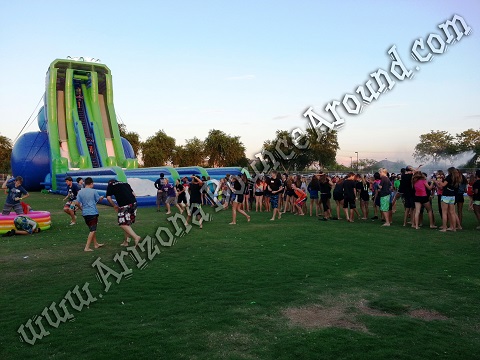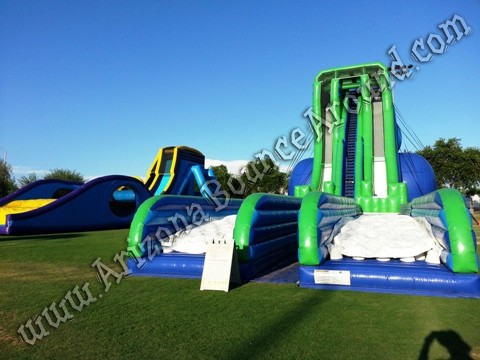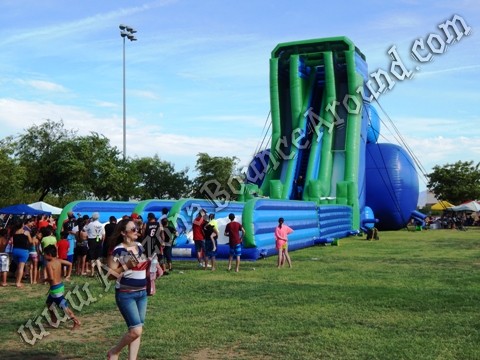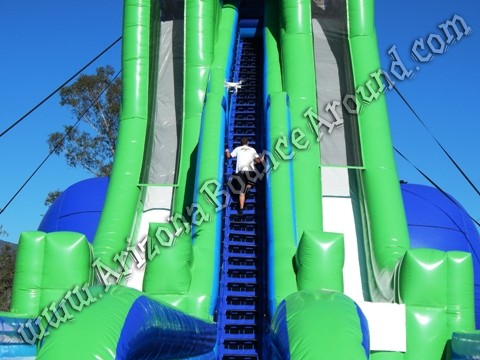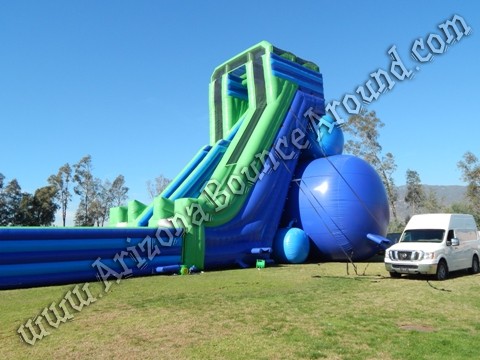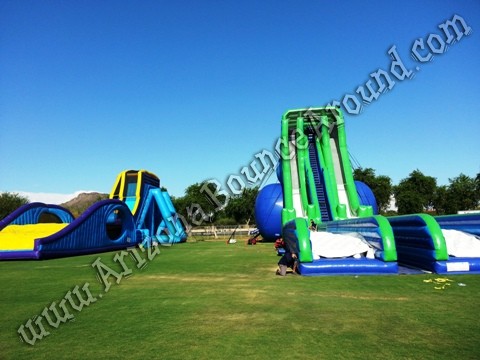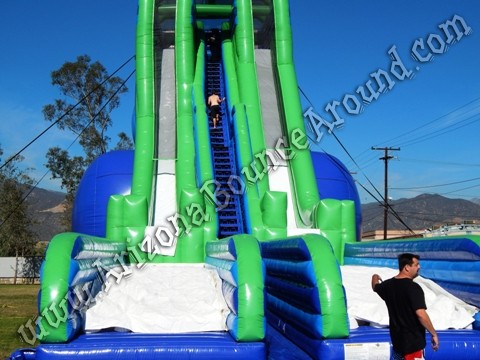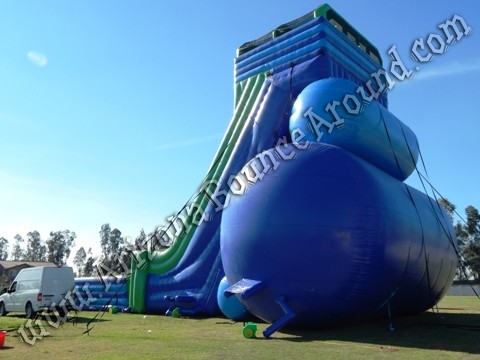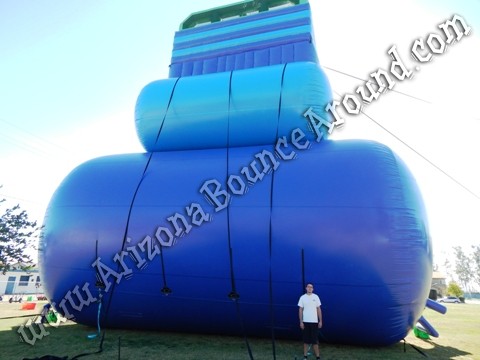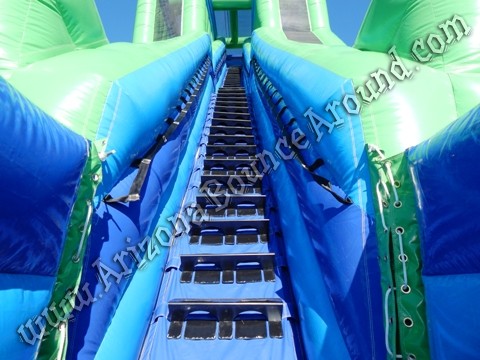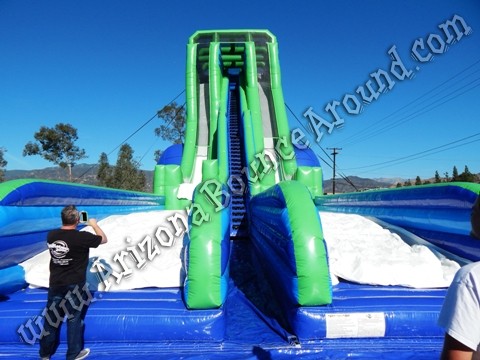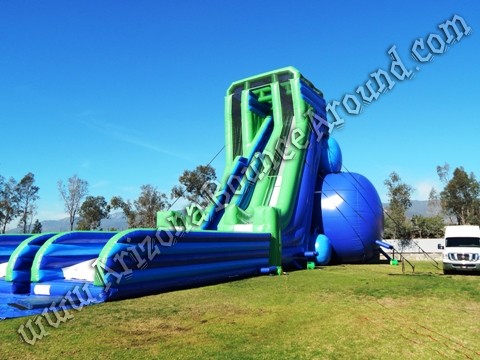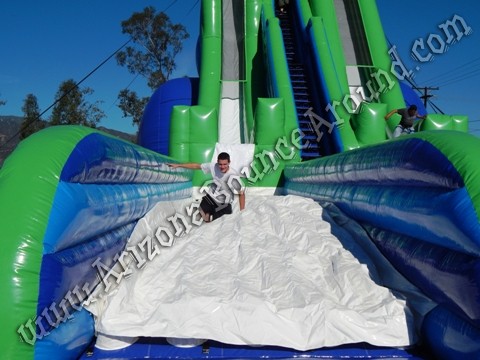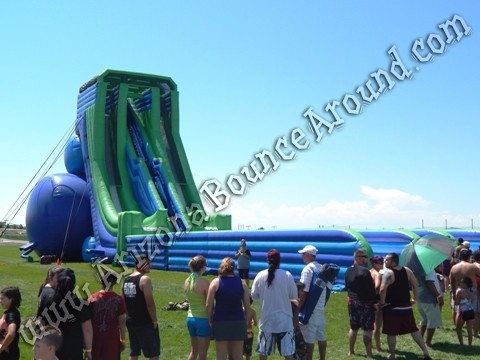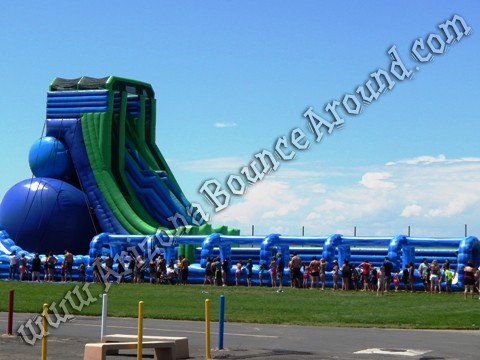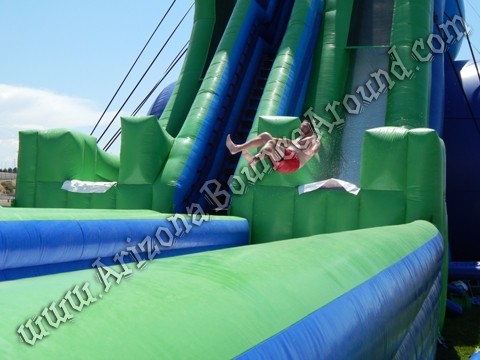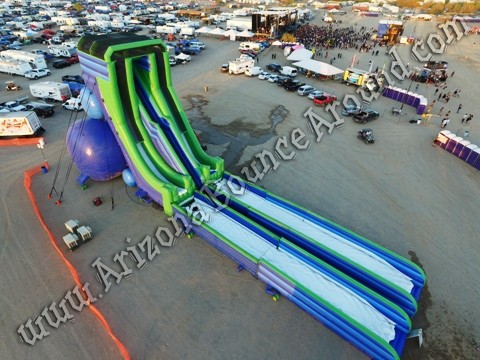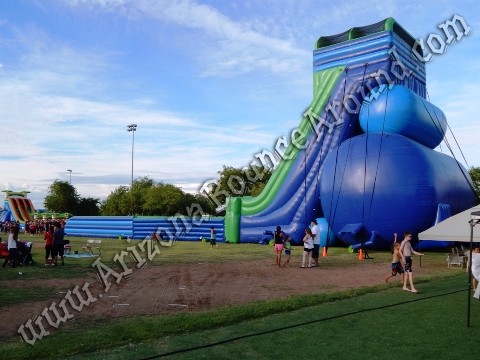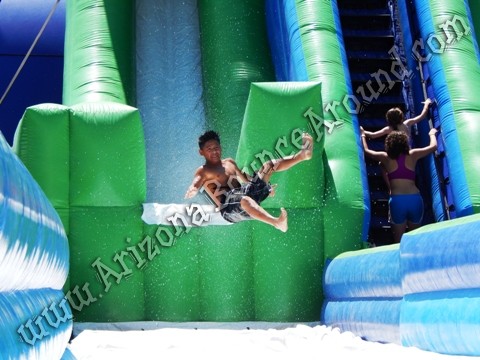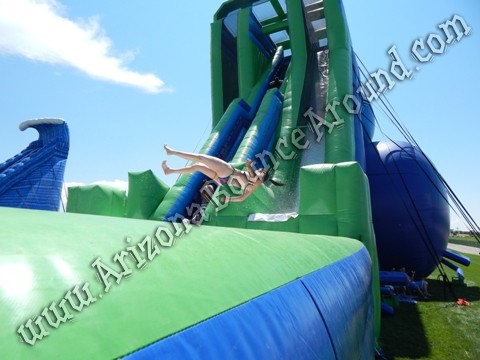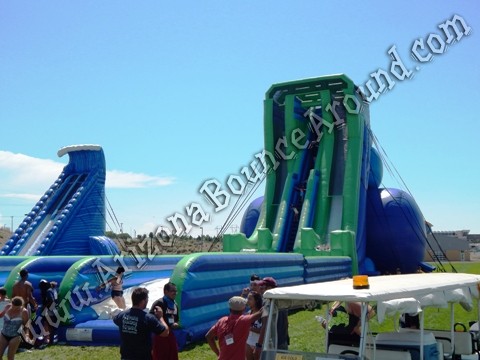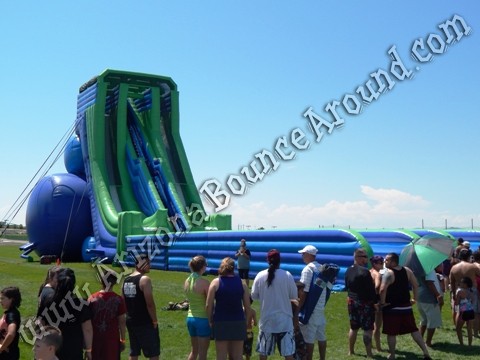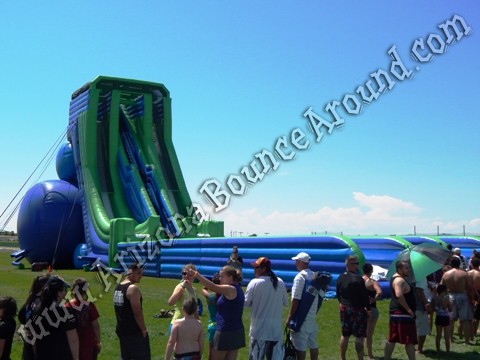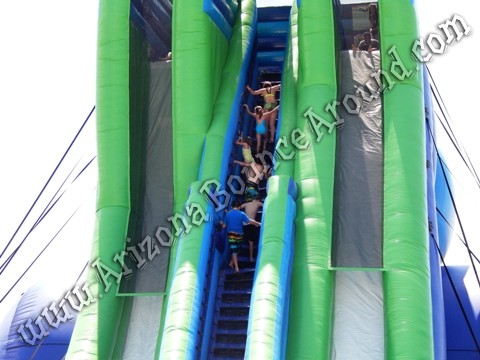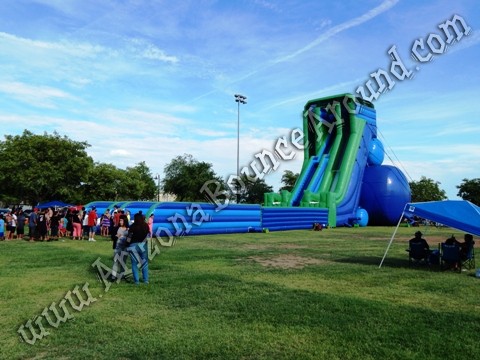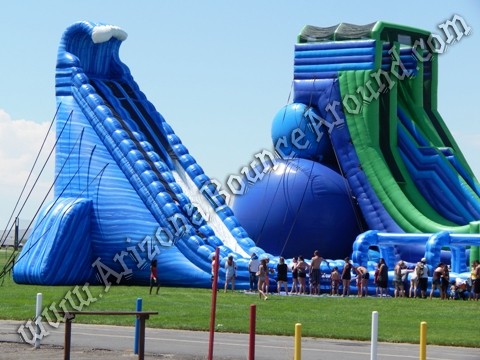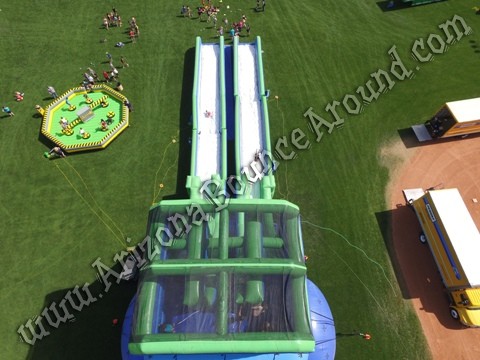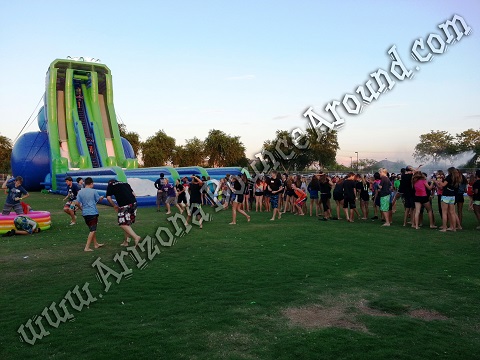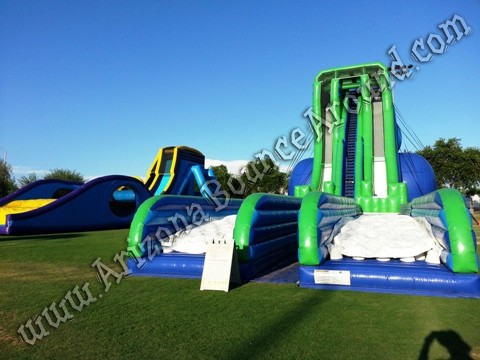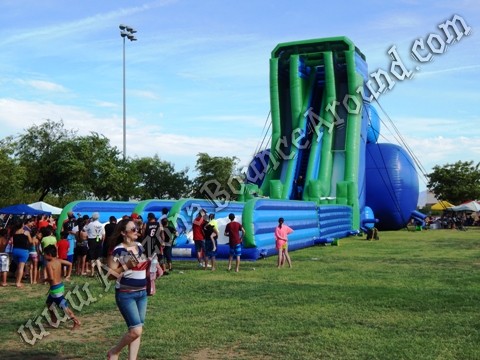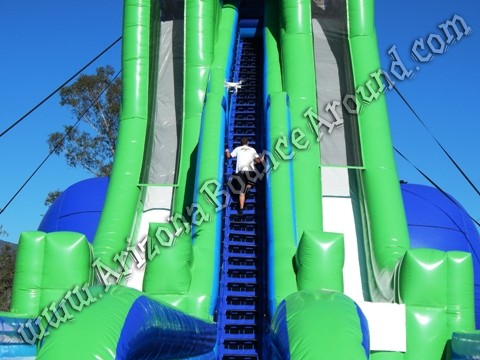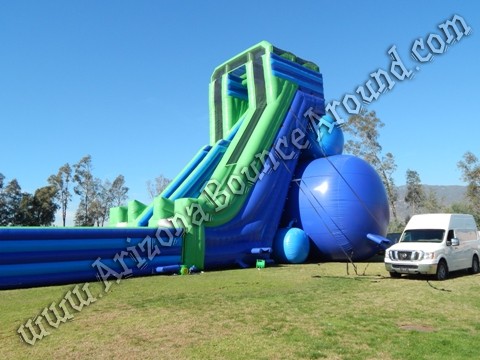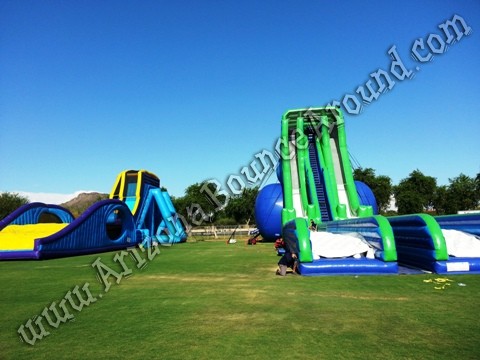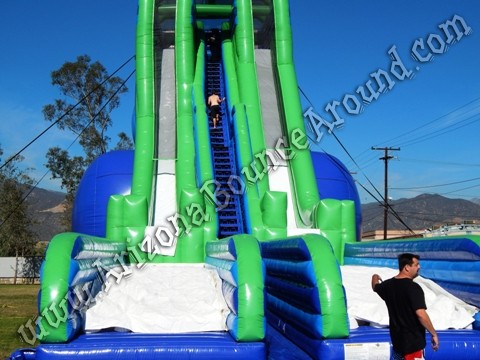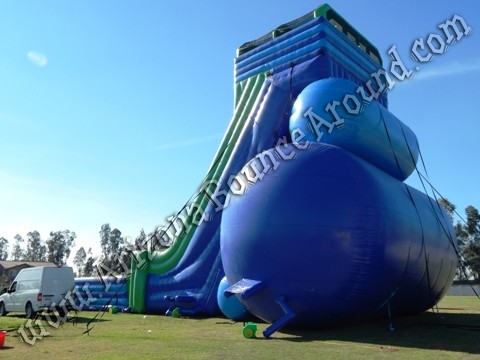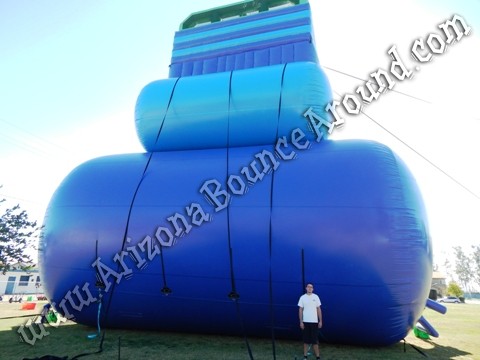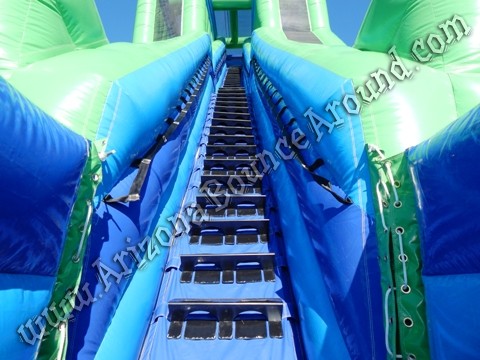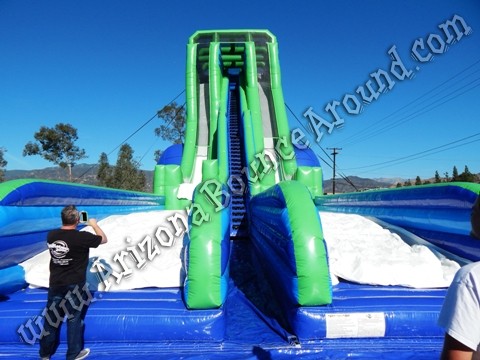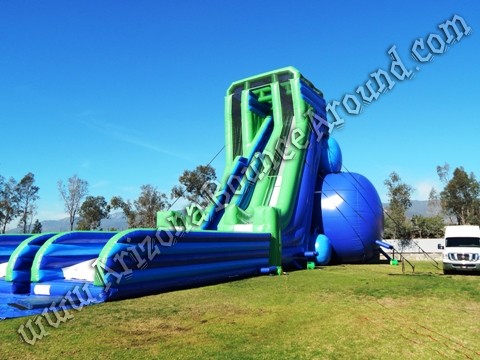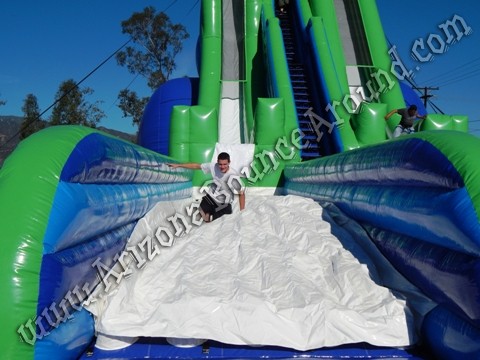 Rent a giant inflatable dual lane water slide in Arizona and California by calling 480-874-3470
51' Skyscraper Water Slide
Starting At:


Call for Great Pricing on this amazing water slide
*restrictions apply

Minimum space required
70 ' (21.33 m) wide
55 ' (16.76 m) tall
150 ' (45.72 m) long
Be sure to check out all the photos below of this amazing 51 foot tall dual lane water slide. Reserve it now for 2016 before you miss out on the hottest new slide for this year. This dual lane water slide features 2 launch ramps that send the riders flying in the air to the landing bags and its 130 feet long.
One lane is completely straight down so you experience a free fall sensation before being launched in the air and the other side is very steep and launches you further down the air bag so you can experience 2 different rides on the same slide. This is the most extreme inflatable water slide available and can only be found at Arizona Bounce Around.
We have this water slide priced very reasonable in relation to the work involved in setting up and taking it down. We make sure all the details are covered so you can have the best experience possible. We offer up to 5 million in Liability insurance coverage with this slide at an additional cost. We include
1 million / 2 million
in coverage with the listed price.
We are the leader in giant water slide rentals in Arizona and have lots of summer games and activities for summer parties and events. Add our
giant slip n slide
or
water walking balls
to your party
Page:4495-4-300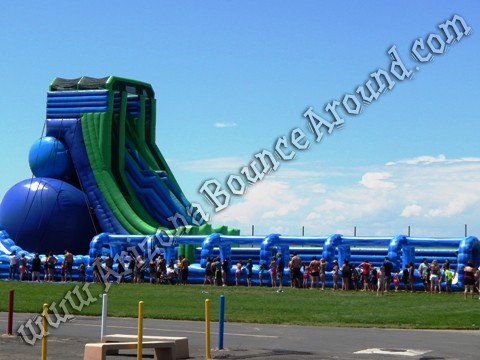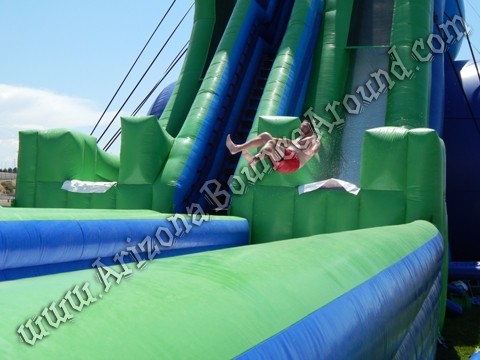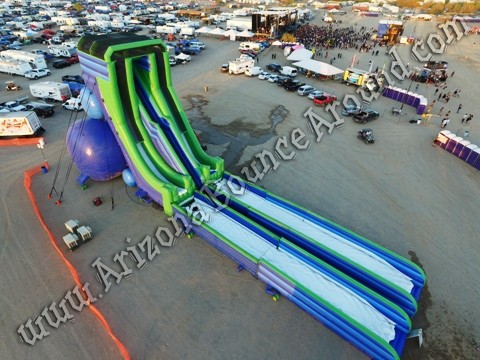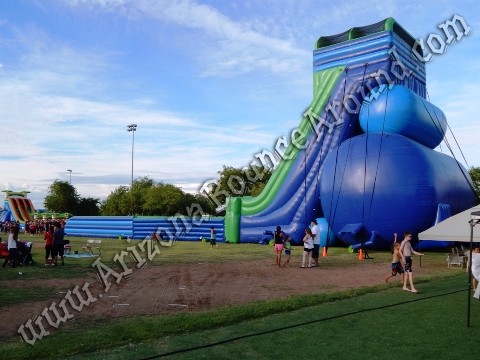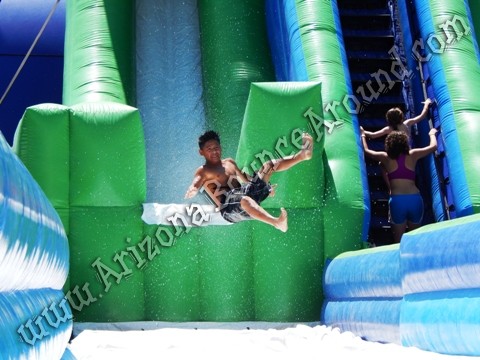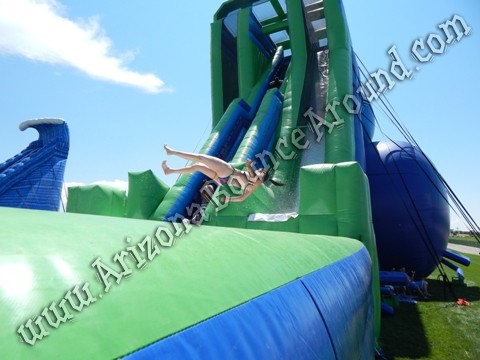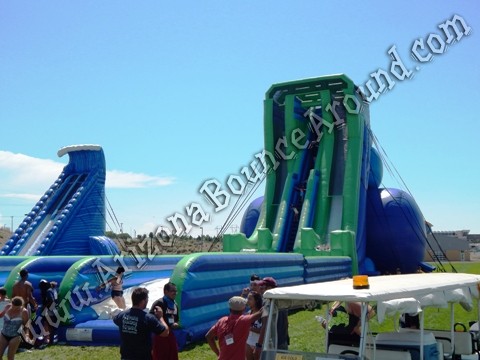 This is the Skyscraper next to our 42 foot water slide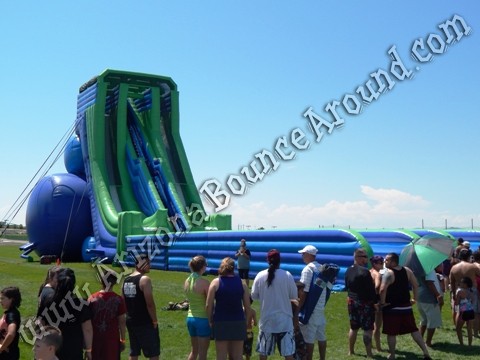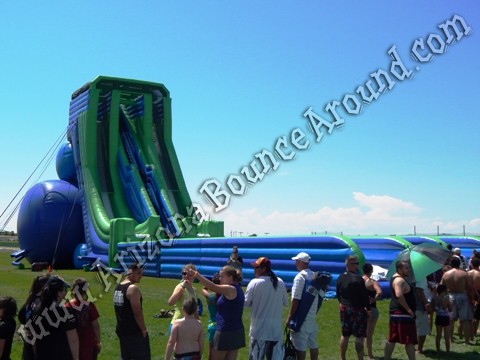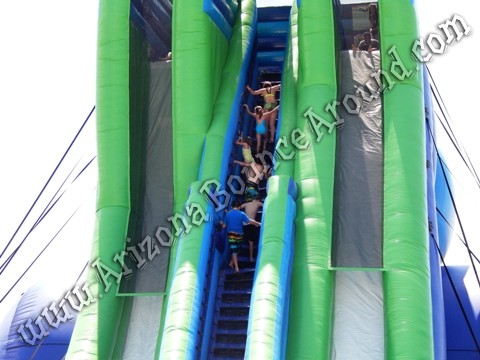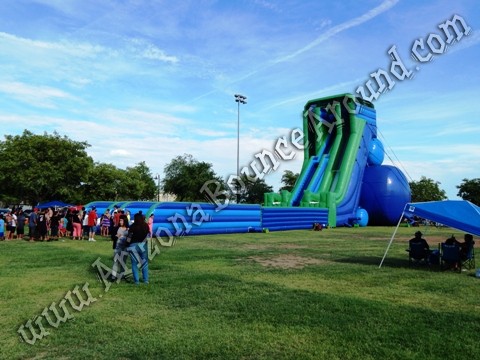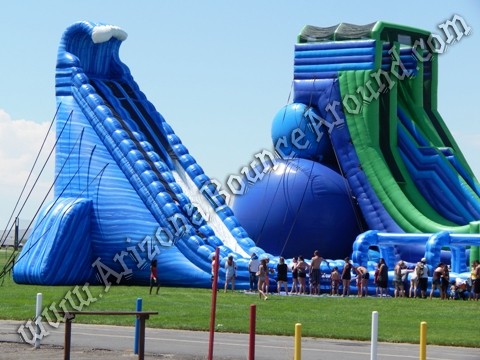 We are the leader in big water slide rentals from coast to coast. No other rental company even comes close to the inventory of giant water slides that we carry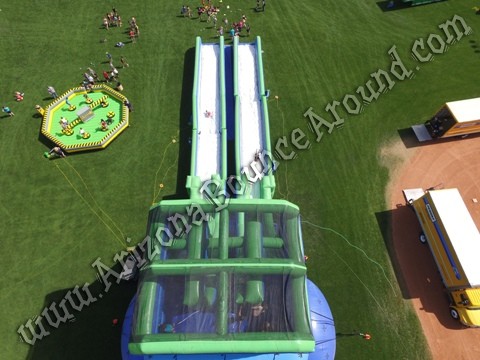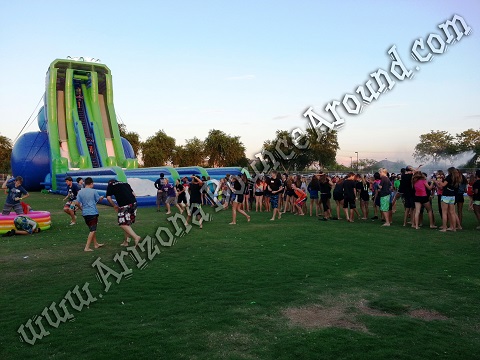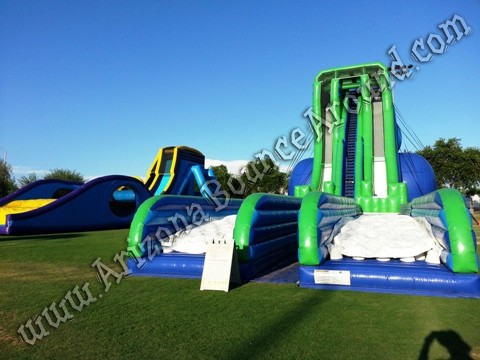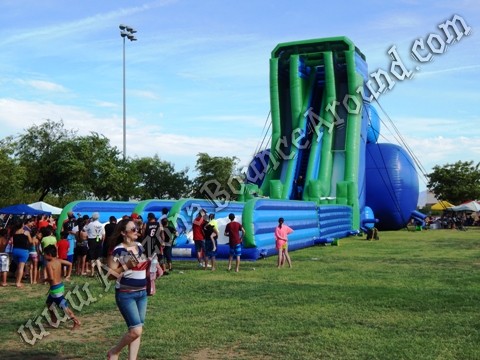 Look close at the guy on the ground near the center of this giant water slide.
This water slide is so big its hard to get an idea of the size by looking at photos online. When you see this giant water slide in person its simply amazing and will be sure to draw alot of attention to your party or event. Lots of photos below this one so keep scrolling down to see them.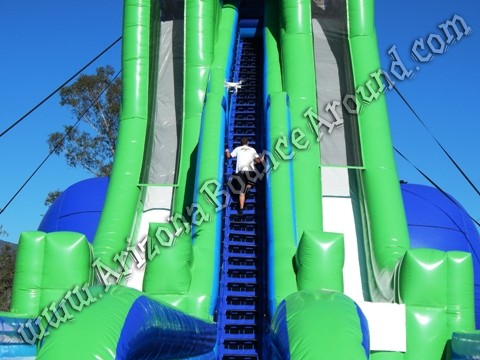 This massive inflatable water slide has easy to climb, no slip plastic stairs perfect for any age group
just like our Hippo water slide but only taller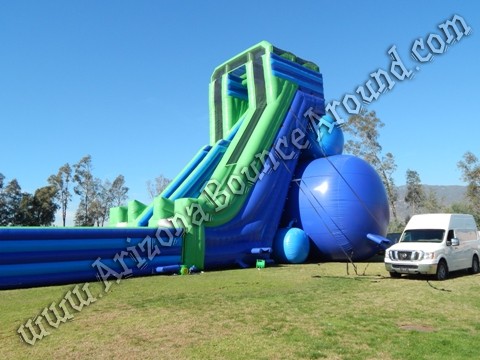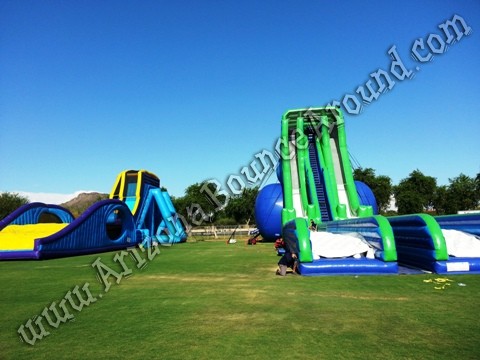 Here is a photo of the 36 foot tall Drop Kick water slide next to the Skyscraper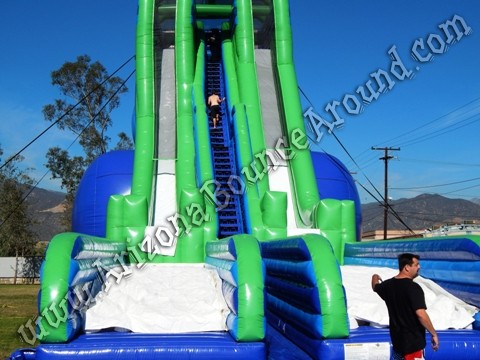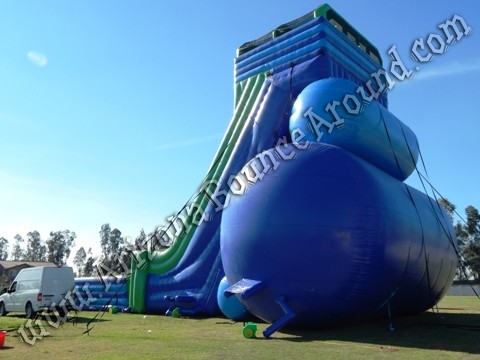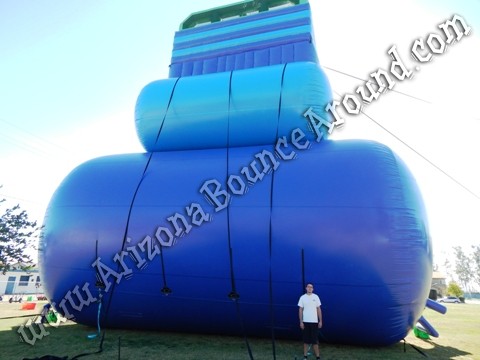 You'r screen is not messed up. This dual lane water slide is really this big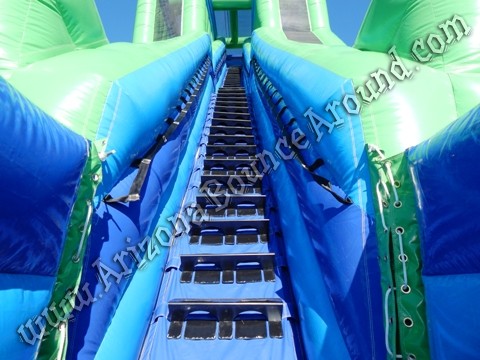 Our Skyscraper water slide features safety steps and hand rails making it really easy to climb. This is a big feature not
found on any other giant inflatable water slides except our
Hippo
and Rhino water slides
This is one seriouly tall inflatable water slide rental shown next to one of our delivery vans. If you're having a summer party or event with lots of people you should really rent this massive inflatable water slide. This slide will be sure to attract media attention and thrill anyone who sees itOur dual lane 51 foot tall Skyscraper water slide is simply amazing and is only available for rent from Arizona Bounce Around in Scottsdale, Arizona. This slide is so tall we may need to put a flashing red light on top at night so planes dont hit it.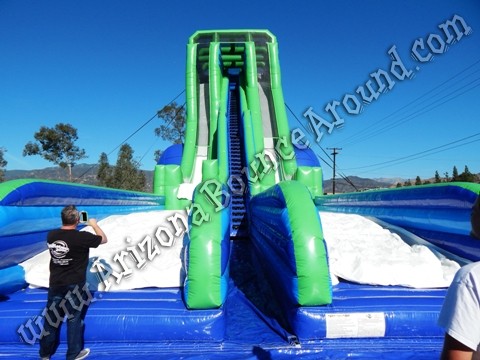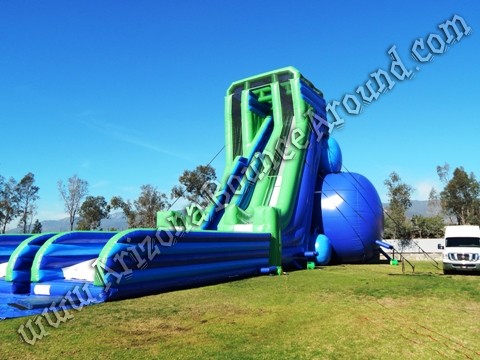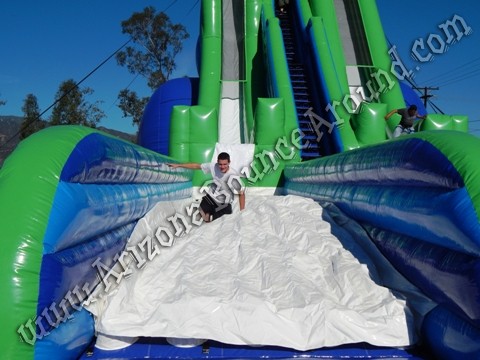 Both slide lanes have Zero Shock inflatable landing bags for a super smooth landing every time