Water Walking Ball Pool with 4 Water Balls
Water Walking Ball Pool Rental in Phoenix, Scottsdale, Tempe, Chandler and Gilbert Arizona
Our Water Walking balls and Sealed Air Pool will be a big hit at any summer party or event in Arizona and comes with 4 Water Balls and 2 Staff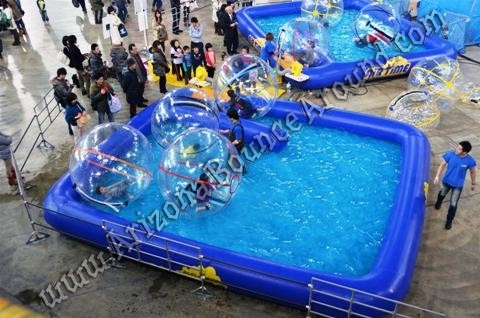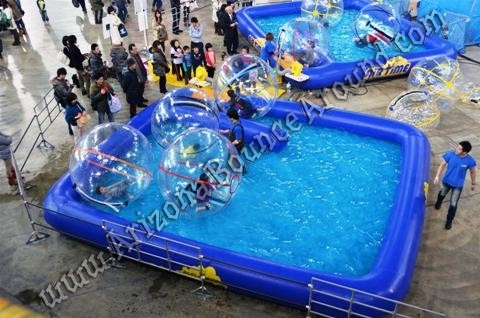 Water Balls for rent in Phoenix 480-874-3470
Water Walking Ball Pool with 4 Water Balls
Starting At:


$599.00

/

3 Hours
($200.00 per additional hour)
Staff Included
*restrictions apply

Minimum space required
30 ' (9.14 m) wide
8 ' (2.43 m) tall
30 ' (9.14 m) long
Our water walking balls come complete with Inflatable 24' x 20' pool and 4 Inflatable Water balls. We also provide 2 staff members to operate the water walking balls during the event. Please read the FAQ section in the top right corner of this page about this unique attraction as it contains information about filling and disposal of the water in the pool.
This game is perfect for summer events and can be used all year because when you're in the inflatable hamster balls. This is a real crowd pleaser and great for all age groups. This is the perfect game for teen parties, schools, city events and churches.
Customer to provide approx 4,250 gallons of water to fill the pool and a water hose or we can give you a quote to have it filled with a water delivery service. In some cases this activity may need to be delivered the day before so it has time to fill.
You must have proper drainage or a large enough area to contain all the water at the end of the event because the pool water just dumps out at the end of the event. If your unsure about drainage or need to have the water pumped out please contact our sales office for a quote. Please read our
water walking ball FAQ
for more details.
We also rent
human hamster balls
with a track. The inflatable pool will take approx. 6 to 8 hours to fill depending on water pressure and other items. This water walking ball rental requires a very flat level area to set up and all the water will be dumped out at the end of the event.