Racing Themed party Ideas in Phoenix Arizona
Aaaannnnndddd…. you're off! Rushing past your competitors with fierce speed, honing in on first place, you tell yourself to keep pushing as your heart pounds out of your chest. Go. Go. GO. You're almost there… first place! Sweat beading on your brow, you dismount your inflatable pony and high five your fellow opponents and spectators with pride in your heart and gratuity in your smile.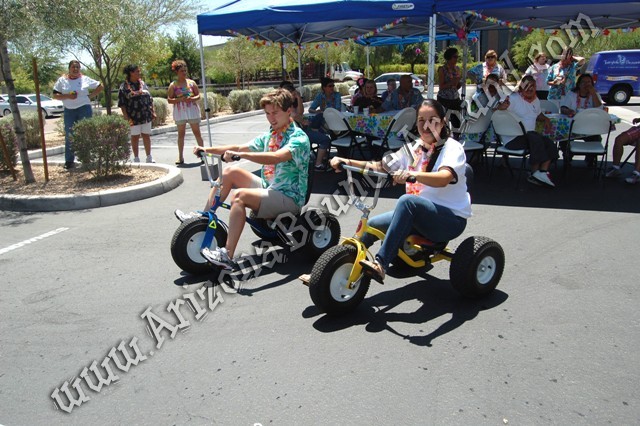 Wait.. inflatable pony? Why, yes! Here at Arizona Bounce Around, we offer the most unique inflatables and racing games for customers all over the valley, like our
Speedway 500 Obstacle Course.

If you're one of the many people who enjoy watching and participating in racing competitions, why not bring the same invigorating feelings that you get at the racetrack to your next big event? Invite friends and family over for a fun day/night of friendly competition. Whether you're having an Indy 500 watch party at your house or getting fired up for a day at Turf Paradise, Arizona Bounce Around is there for you to help you have the coolest event in the neighborhood.
Start your NASCAR themed party with something to get your engines revving with some friendly racing competition – race your friends and family members on our Adult Tricycles through the
Mega Inflatable Race Track
. Have a need for speed? Rent two
Fast and Furious Arcade games
for a more interactive fast-paced challenge!
Completely immerse yourself into the speed racer world with our newest, most modern addition – the
Virtual Reality Race Car Game
Rental. Hightail it out into our larger than life racetracks and burn some rubber with all the fun of having a car racing party without having to leave your neighborhood!
Or see yourself on the fast track of the Kentucky Derby with our aforementioned Four Lane AZ Derby. And begin your bets with the Two Player
NASCAR Arcade Game
. Who knew you could become a jockey without knowing how to ride a horse! And be sure not to forget to add tables, chairs, and tents to your event for in-between competition shenanigans.
Whether you're more of a boxcar racing fan or you dabble more in horse racing competitions, Arizona Bounce Around will make sure you have the most extraordinary event of the racing season!