Popcorn machine rentals in Scottsdale, Arizona
Our popcorn machines come complete with high quality popcorn supplies and popcorn bags and can be delivered or picked up from our Scottsdale location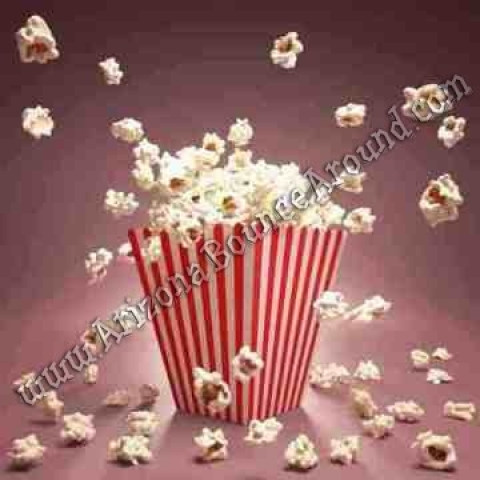 Rent a popcorn machine today by calling 480-874-3470
Popcorn Machine Rental
$69.95

/

4 hours
$59.95 if rented with an inflatable
Shown with optional popcorn stand above for $5.00.
Popcorn machine rentals include theater quality popcorn supplies for 50 servings.
Includes 10 bags of pre mixed popcorn mix (corn, oil, butter & salt) and 50 colorful printed 46oz bags.
Additional popcorn supplies available at $10.00 per 50 servings.
Nutritional information available upon request


We rent theater quality
popcorn machines
and high quality popcorn supplies. Popcorn Machines for customer pickup or delivery in Scottsdale, Phoenix, Tempe, Mesa, Chandler, AZ.
We rent a beautiful popcorn wagon complete with red canopy top and stainless steel counter. You can also hire us to fully staff the popcorn machine and serve your guests so please call with your needs and we would be happy to give you a quote.
Popcorn popping machines are a big hit for parties, movie nights, school carnival concession stands or office parties with hot and fresh popcorn. No party is complete without a popcorn machine and we have plenty of them for rent.
Our popcorn machines are the best rental quality at the best price. Our popcorn machines will fill the air with the smell of fresh popped popcorn with the butter and salt flavor included. Our Popcorn machines are very easy to use and come complete with color printed popcorn bags, popcorn mix and printed step by step instructions for use.
All of our popcorn supplies come in a pre mixed pack so no need to measure the popcorn or oil before popping. We sell only high quality theater quality supplies for all of our concession machines. The same concession supplies used at fairs, carnivals and movie theaters.
Rent all your concession machines from Arizona Bounce Around located in Scottsdale Arizona and we deliver to the entire Phoenix metro area or you can pick them up from or office in south Scottsdale near McDowell & 77th Street.