Dance floor rentals in Phoenix - Scottsdale - Tempe, Arizona
Don't rent old outdated tile looking dance floors when you can have the new style dance floor for around the same price. Dance floors are not all the same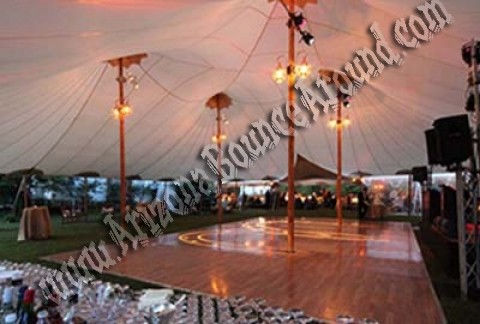 Rent dance floors from us today 480-874-3470
Dance Floor Rentals
$26.56

/

4 hours
($10.00 per additional hour)
Arizona Bounce Around offers high end dance floors for rent in the Phoenix and Scottsdale area. Our dance floors feature a nice wood grain look that adds that new modern feel to your event.

Don't get stuck with the out dated cross grain dance floors offered by some dance floor rental companies. Dance floors should have a striking appeal from all areas of your event.

Whether your hosting a wedding, birthday party, school party or just a party that need a dance floor this is perfect for you. Add our dance floor lights or LED Black Lights for the ultimate dance floor experience.
Our dance floor is assembled from 4' X 4' dance floor panels so we can configure any size you need using the 4'X4' panels. Each dance floor panel rents for $26.56 or $1.66 per square foot. Set up and removal is included for perfectly level surface.

Delivery and pickup charges will be based on the size of dance floor you order and the distance we need to travel. Delivery and pickup charges are not included in the $26.56 per panel price.
Popular Dance Floor Sizes Available:
8' X 8'
8' X 12'
8' X 16'
8' X 20'
12' X 12'
12' X 16'
12' X 20'
16' X 16'
16' X 20'
20' X 20'

We have professional event planners here to help you choose the right dance floor
so call, click or come by today 480-874-3470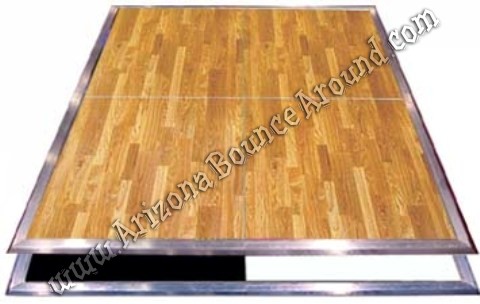 Our modern style dance floor rentals will make your party or event look amazing. Our dance floors come complete with satin edging and can be set up on grass, indoors or almost any surface except dirt, sand or big gravel. Our dance floor rental price includes set up and take down but delivey and pickup charges are not included and vary based on the size of dance floor you order and the distance we need to travel so call one of our professional event planners today for a quick quote 480-874-3470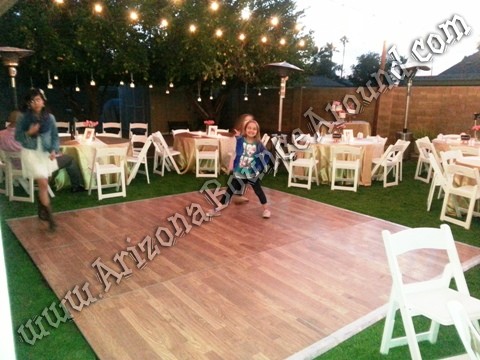 This is a 144sf dance floor (12 x 12) using 9 dance floor panels. The rental price for this size dance floor is $239.04 plus tax and delivery.